Build Your Future at UCR!
Turn your passion into purpose as part of the UCR family. Our award-winning faculty will mentor you. Our diverse campus community will embrace you. And our first-year-specific resources will help you build your future!
We've been waiting for a Highlander like you. Apply to UCR today!
First-Year Financial Aid, Costs & Fees
You can afford a UC education! The cost of attending UCR is extremely competitive compared with other University of California campuses and private schools. Living in Riverside is also considerably less expensive than living in nearby Los Angeles, Orange County, or San Diego. Read on to learn more about the programs available to help you pay for your UCR degree and how much that degree costs.
University of California Tuition Stability Plan
Beginning fall 2022, tuition will be adjusted for each incoming undergraduate class but will subsequently remain flat until the student graduates, for up to six years. Learn more.
Financial Aid
A UC degree is more affordable than you might think! Grants, scholarships, loans, and work-study are offered to qualified students by UCR's Financial Aid office.
87%
of UCR undergraduate students who applied received some form of financial aid.
98%
of financial aid recipients received gift-aid (grants and scholarships).
77%
of students' financial aid need was met with need-based financial aid.
(Financial Aid Office, 2021–22)
 
Additional Aid
UC Riverside Foundation Scholarships
The UC Riverside Foundation offers scholarships, fellowships, internships, prizes, awards, and loans to qualifying UCR students. Use the online database to search for aid based on your college, major, financial need, career goals, and more. scholarships.ucr.edu
Work-Study
Eligible students can earn money for school through an approved on- or off-campus work-study job. Funds can only be used during the academic year, and you must meet financial need, academic, and other requirements to maintain your  eligibility. careers.ucr.edu
---
Aid for California Residents
The state of California offers a number of financial aid programs for residents, including those listed below. The programs offer qualifying students grants and scholarships that do not need to be repaid to cover tuition, fees, and related expenses (like books, housing, and transportation). To be eligible, complete your FAFSA or CA Dream Act Application by the March 2 priority deadline each year (late applications can be submitted after March 2), and make sure your Cal Grant GPA Verification Form was submitted to the California Student Aid Commission by your high school.
Middle Class Scholarship Program
If your family has up to $171,000 in annual income and assets, and you meet other residency, income, and academic requirements, you could have up to 40% of your UC systemwide tuition and fees covered by this scholarship. go.ucr.edu/mcs
Cal Grant
If you meet GPA, family income, residency, academic, and other requirements, you can get grant money that will cover some of your educational costs and fees. csac.ca.gov/cal-grants
Blue and Gold Opportunity Plan
If your total annual family income is less than $80,000, and you meet other residency, income, and academic requirements, you could have 100% of your UC systemwide tuition and fees covered by grants and scholarships through this plan. Students with greater financial need can qualify for additional aid to cover expenses like books, housing, and transportation. admission.universityofcalifornia.edu
Additional Aid from the State of California
Check out more state of California financial aid programs from the California Student Aid Commission:
csac.ca.gov/financial-aid-programs
---
Estimated Costs for Undergraduates
View estimated costs for attending UCR including tuition, fees, housing, books, transportation and more.
UCR Net Price Calculator
Fill out the form at the UCR Net Price Calculator to get an estimate of what your full-time cost of attendance and financial aid package at UCR could be.
"I decided to attend UCR because of the financial support they provided me, and the diversity on campus. I know I can be myself at UCR, and that is a plus for me because I want to be comfortable where I am living."
Jorge Juarez Duarte (JJ)
Mathematics Major
Applying to UCR
As a top-ranking university, UCR sets high admission standards. Incoming students are selected based on a wide range of criteria, including academic performance and the potential for success as an undergraduate.
3.0
Minimum GPA Requirement
21:1
Student-to-Faculty Ratio
Requirements
UC Riverside will not consider SAT or ACT test scores when making admissions decisions or awarding scholarships. If you choose to submit test scores as part of your application, they may be used as an alternative method of fulfilling minimum requirements for eligibility or for course placement after you enroll. Details regarding UC's testing policy can be found online. 
Comprehensive Review

Comprehensive review is the process by which UC Riverside (UCR) evaluates first-year applicants, who meet minimum UC requirements, using multiple measures of achievement and promise, while considering the context in which each student has demonstrated accomplishment. UCR will calculate an Academic Index Score (AIS) for all first-year applicants. The faculty of UCR have designated the measures described below to be used to calculate the AIS.

High School GPA—The strength of an applicant's high school GPA is the strongest indicator that a student will be successful within an academically challenging UC environment. The capped GPA is calculated on the basis of all completed "a-g" courses with extra points added for UC-approved honors courses taken in grades 10 and 11, capped at 8 semesters. A capped GPA considers the extra points earned for honors-level courses and may exceed 4.0 for some students.

Advanced Placement (AP) or International Baccalaureate (IB) courses—AP and IB courses prepare students for college-level coursework. Therefore, students who take and do well in these courses tend to have a high probability for success within the UC environment.

Eligibility in the Local Context (ELC)—The Eligibility in the Local Context (ELC) program recognizes the individual accomplishments of students in light of the opportunities offered by their particular high school.

Low Family Income—Students who demonstrate high academic achievement, despite low socioeconomic status, are likely to exhibit persistence, maturity, and insight. Low family income is determined based on total family members and household income.

First-Generation University Attendance— UC-eligible applicants who are the first in their immediate family to attend college are apt to have personal strengths that will contribute to their academic success. Students whose parents have not graduated from a four-year college or university are qualified for first-generation university attendance.

Subject Requirement
GPA Requirement

To meet minimum requirements, you must earn a GPA of 3.0 or higher (3.4 for non-residents) in "a–g" courses taken during grades 10 and 11 (including summers before and after), weighted by a maximum of eight semesters of UC-approved honors points.

Extra Points for Honors Courses

A=5, B=4 and C=3; D or F=0 extra points.
Approved honors-level courses may also include acceptable AP classes, higher- (and some standard-) level IB classes and transferable college courses.
Resources & Support
UCR is dedicated to your success, and offers a range of programs and resources to support you along your path to degree. Get guidance from faculty and student mentors. Excel in your courses with the help of a tutor or study group. Connect with a wellness department to take care of your physical, mental, and emotional health. Develop as a leader in a campus organization.
First-Year Resources
Brochures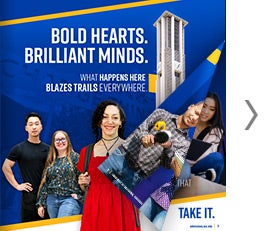 Undergraduate Admissions Brochure (Flipbook)
Checklists
First-Year Next Steps to Enrollment
First-Year Admission Checklist
Nontraditional Admission Checklist
Military/Veteran Admission Checklist
General Brochures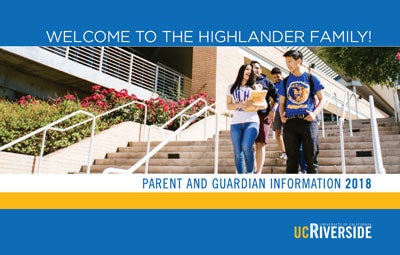 General Catalog
Undergraduate Majors
Parent and Guardian Brochure
54 Facts & Impacts (Viewbook)
Finish in Four
Puente Connection Brochure
Black Student Experience Brochure
Middle Eastern Student Experience Brochure
Chicano/Latino Student Experience Brochure
Native American Student Experience Brochure
Student Veteran Success Guide
First-Year Dates & Deadlines
Find the dates of instruction at registrar.ucr.edu. 
Admissions: First-Year
May 1
Deadline to submit your Statement of Intent to Register (SIR)
May 10
Deadline to submit housing contract and first payment
June 8
Deadline to register for Highlander Orientation
July 1
Deadline to submit your final, official high school transcript
July 15
Deadline to submit your official AP, IB, and A-Level exam scores
Financial Aid
Jan. 1
Access the California Dream Act Application at dream.csac.ca.gov (UCR school code: 001316)
March 2
Priority deadline to submit your FAFSA or California Dream Act Application (applications can be submitted after March 2)
Verify that a certified GPA was submitted to the California Student Aid Commission by your high school