COVID-19 UPDATE: Riverside is continually adapting to the COVID-19 situation and cautiously resuming normal operations. We advise anyone exploring Riverside to review city-specific ordinances and safety guidelines at riversideca.gov. Before visiting the attractions mentioned on this page, we also suggest you first contact them for current operating hours and public safety policies. Please stay safe and healthy while exploring Riverside.
Live Your Best Life in Riverside, California!
The City of Riverside is a vibrant college town that welcomes and supports a diverse community. UC Riverside (UCR) shares the city with over 15 other higher education institutes. This makes Riverside home to a mighty collection of college students who are attracted to the city's perfect balance of small-town friendliness and big-city fun.
We're talking year-round Main Street festivals that celebrate everything and everyone. Thousands gather each year for our mesmerizing Fourth of July fireworks lit from the peak of our beloved Mount Rubidoux — and month-long wintertime "Festival of Lights," which was voted #1 Best Public Holiday Lights Display in the nation. (USA Today 10 Best, 2018)
For everyday excitement, Riverside has a heavy sprinkling of eclectic eateries, music venues, craft breweries, indie shops, and quaint boba and coffee houses — some owned and operated by UCR alumni.
But what people love the most about Riverside is the location! It's in the heart of Southern California — only an hour's drive to beaches, deserts, mountains, and metropolitan cities.
A City for Fun-Seekers
Riverside offers art, adventure, nature, music, comedy, sports and just about anything else you can think of to feed your mind, body, and soul. Broadway plays fresh from New York? We've got that. Heart-pounding concerts with world-famous headliners? We've got those, too! Serene hikes that bring you magically close to candy-colored sunrises and sunsets? You better believe we've got that!
We have your kind of fun:
Downtown music, art, cultural and food festivals throughout the year, like the IE Taco Festival, Riverside Tamale Festival, Riverside Dickens Festival and Riverside Dia de los Muertos (Day of the Dead) — just to name a few.
Monthly Riverside Artswalk, featuring art, music, and food.
Karaoke spots all over town.
Public art installations throughout the city, like Mariposa Alley.
LOL (laugh-out-loud) comedians showcased at the Fox Performing Arts Center, including Ali Wong and Gabriel "Fluffy" Iglesias.
Affordable bowling and skating all over town.
Carnival rides, arcade games and mini-golf at Castle Park. 
Miles of multi-level trails for hikes, bikes, and off-roading adventure.
Yoga studios, health food centers and many places for mindfulness meditation.
---
277 Sunny Days
79.5°F (26.3°C) annual high temperature
20+
music, dancing, comedy and art venues around campus
Come to Riverside to study but stay for the scene!
#UCRLovesRiverside
A City for Foodies
There is no denying that Riverside's diverse population plays a major role in the variety of cuisines offered around town. You'll find flavors to satisfy every cultural craving within walking distance of campus or quickly delivered to your door. Hungry for specialty food truck treats? They're scattered all around the city. Keep your eyes (and noses) open.
Eats For Everyone
Quick and Affordable Bites
Whether you're looking for familiar flavors that remind you of home or want to try something new, Riverside definitely has it. You'll find 10+ pho/ramen spots, 20+ pizza places, 30+ burger joints or 40+ taco shops — all within two miles (3 km) of UCR.
Group Meals with Friends
Share a meal at one of the many fun restaurants that serve enormous plates of nachos, jumbo bowls of pho and all-you-can-eat Sunday brunches. Can't get the group to agree on one type of cuisine? Try Riverside Food Lab, a trendy food hall with 10+ different eateries to choose from.
Date Night & Sophisticated Palates
Treat yourself (or a special friend) to a meal at one of the many fine-dining restaurants that serve dishes like flambéed brie, bourbon maple glazed pork belly, cauliflower risotto, lobster bisque and goat cheese-filled squash blossoms.
Grocery Stores + Farmers Markets
Whether your recipe is American, international or health-conscious, you'll find a wide variety of ingredients at the 20+ fresh produce markets within 2 miles (3 km) of UCR.  And don't forget about the handful of farmers markets scattered around town throughout the week. This is where you'll find local honey, handmade hummus, homegrown herbs and fresh-cut flowers.
Convenient Delivery Services
Riverside also participates in popular third-party delivery services like Instacart, Doordash, UberEats, GrubHub and Postmates — which can deliver foods and other necessities from just about any restaurant and store in the area within one hour. Perfect for students who don't have a car or just want to enjoy the ease of these online delivery services.
Some pizza places deliver as late as midnight, while other restaurants around town are open 24/7 — which is perfect for late-night study sessions.
The Best City
Riverside was voted the best city to live in! (Press Enterprise's Best of IE, 2017)
Young at Heart
Riverside is ranked 3rd most moved to metropolitan area by millennials in the nation. (Time, 2017)
Full of Opportunity
Riverside is ranked 8th in the metro area for retaining college grads. (CityLab, 2018)
Safe & Sound
Riverside is the 14th safest metro city in America. (safewise.com, 2018)
Learn more about how Riverside is an award-winning city! 
A City Full of Help & Resources
UCR is surrounded by many resources and businesses that college students need when starting a new stage in life. You'll find all your banking, grooming, cell phone and vehicle needs met within a few miles of campus. Local businesses value students and they're ready to help.
Need to buy some new sheets for your bed or new clothes for yourself? No problem. Riverside has many malls, outlets, flea markets, vintage/antique shops and outdoor promenades that are only a short distance from campus.
We have two Target stores and one Walmart Supercenter within 5 miles (8 km) of UCR. These popular retailers carry everything from clothing, accessories, household necessities, kitchen appliances, furniture, food, personal care/beauty products, pet care, sports/outdoor equipment, video games, movies, music, books, electronics, school supplies and so much more.
A City to Call Home
We suggest that freshmen students reserve their spot at one of UCR's many residence halls or off-campus apartments to get the full college experience. But if you'd like to venture out on your own, these are near-to-campus neighborhoods that are most populated by UCR students. Learn about all of Riverside's different neighborhoods on RiversideCA.gov
University District "College Living":
Population: Majority of college students.
Housing: Many standard apartment complexes and multi-resident (roommate-style) homes.
Amenities: Student-serving businesses and many diverse restaurants.
Canyon Crest "Suburban Living":
Population: Mix of college students, young professionals and families.
Housing: Mix of luxury condos, deluxe apartments and single-family homes.
Amenities: "Everything-you-need" shopping center and parklike surroundings.
Downtown "City Living":
Population: Artists, musicians, young professionals, college students and families.
Housing: Victorian homes renovated into apartments, luxury lofts and Craftsman-style homes.
Amenities: Music venues, art galleries, nightlife and many restaurants.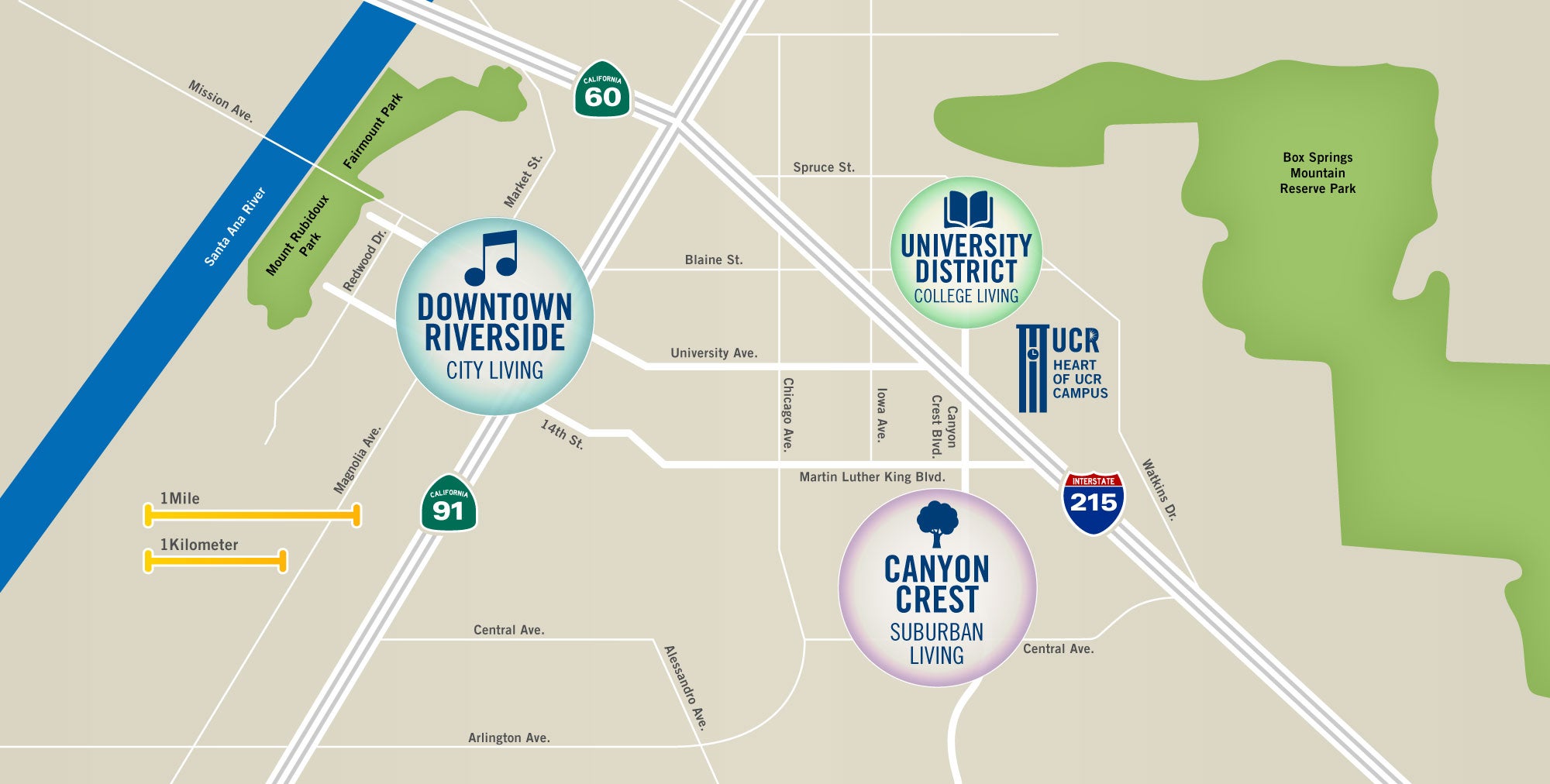 The cost of living in Riverside is much lower than metropolitan areas like Los Angeles, Orange County and San Diego. This makes renting or sharing an off-campus apartment or house a lot more affordable.
A City to Work In
If you are looking for an internship, seasonal, part-time or full-time job, you can start with Handshake, an online job search tool where you will find a list of job openings from local companies who are looking for students like you. Search from the comfort of your room 24/7 or, create a few search agents that will notify you via email when a match is made.
 Forbes ranked Riverside as one of The Best Places for Business and Careers (2018).
A City That's Easy to Get Around In
Riverside supports many modes of transportation that are safe, affordable and convenient. Many community members walk, skateboard, bike or use motorized scooters*.
UCR students can use their R'Card (student ID) to get FREE rides on RTA busses. People who are venturing further away from campus or beyond the city can also pay for rides through taxis, Uber, Lyft, Zipcar rentals or Metrolink trains.
UCR also provides students with a FREE Point-to-Point Shuttle Service that takes students from a designated on-campus meeting point to their off-campus home, as long as it's within the coverage area.
Please note that UCR has transportation policies that are separate from the City of Riverside:
*Motorized scooters are NOT permitted on campus.  You can ride them through the city and to the edge of campus but not onto (or through) the campus.
Due to limited parking availability on campus, first-year/freshman students who are living in UCR's Residence Halls are prohibited from bringing a vehicle on campus.
Explore Surrounding Cities & Activities
Go solo. Grab some friends. Or, find out how UCR's Outdoor Excursions can help you visit all of these places.
Popular Points of Interest
We've collected some of the most frequented locations near (and not-so-near) campus that may be useful to students.
Click on the icon in the upper left-hand corner of this interactive Google map to view the full menu and select the layers/categories you want to see.