Enrollment Services departments are open for in-person and virtual services. Please check the Enrollment Services Update page for hours, service offerings, and contact methods. For the latest campus reopening plans, safety guidelines, and requirements, visit Campus Return.

Unique. Committed. Real.
Just Like You!
A unique student like you is the heart of UC Riverside. We invite — we need — your individuality, your passion, and your voice. Your kind of commitment keeps us on our toes. (And, we love that about you.) We welcome your kind of real energy — and we'll never let it fade.
At UCR, we'll challenge you with our world-class faculty, including two Nobel laureates, a Pulitzer Prize winner, countless social activists, and world influencers. You'll find a kaleidoscope of faces, narratives, and cultures that celebrate the differences that define and the journey that unites us. We're glad you're here — now let's see what special experiences we can add to your story.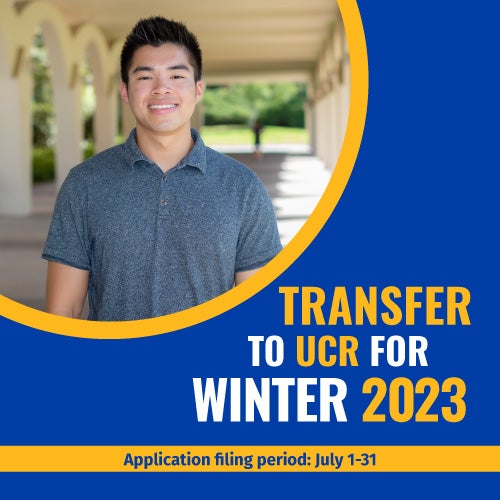 UCR is one of 10 campuses within the prestigious University of California system — but in a class of our own.
#1
UCR is the nation's leader for social mobility for the third year in row!
(U.S. News & World Report, 2020–22)
 
Top 10
UCR is one of the 10 best colleges in California.
(Money Magazine, 2020)
World Class
UCR is among the top 11% of ranked world universities.
(Center for World University Rankings, 2019–20)
Distinguished Faculty
UCR's distinguished faculty boasts two Nobel Laureates and 13 members of the National Academies of Sciences and Medicine.
Giving Back
UCR ranks #15 in the country for community and national service.
(Washington Monthly, 2020)
Smart Money
With graduates' mid-career pay averaging $118,400, UCR is the 12th Best College for Your Money potential.
(PayScale 2019-20 College Salary Report)
---
Feel the Love at UCR!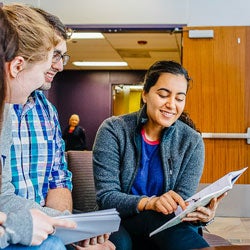 We Support You
Your success is our top priority. Ease into college life with help from faculty, peer mentors, and first-year learning communities. Get a tutor at the Academic Resource Center (ARC). Feel at home with eight Ethnic & Gender Centers. "Finish in Four" to receive your degree with a sooner-than-later return on your investment. We'll even connect you to employers on campus and around the world.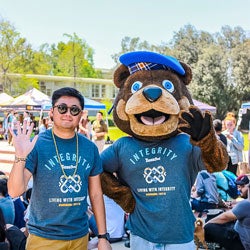 We Think Big
At UCR, our strength lies in our diversity. You'll be joining a community of faculty and students from over 80 countries and countless cultural identities to exchange knowledge, build social mobility, and shape future leaders. To foster personal growth and expression, you can engage in more than 500 student-led groups, including cultural, spiritual, academic, artistic, and fraternity/sorority organizations.
---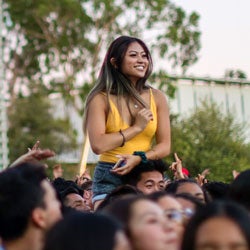 We Have Fun
Students boost study-life balance with fun, friends, and newness. Work out at the state-of-the-art Student Recreation Center (SRC). Go camping or scuba diving at the beach with our Outdoor Excursion trips. Join Highlanders at one of our campus music festivals with featured artists such as Foster the People, Jhené Aiko, DJ Snake, and Kendrick Lamar.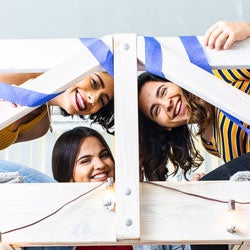 We Have Heart
UCR students do good in the world. You'll find active and energized groups ready to share, support, and empower your passion for issues affecting our communities and the world. For the annual Highlander Day of Service, hundreds of UCR students, alumni, parents, and friends join forces to participate in over 25 community service events across California.
HOW TO
APPLY
View admission requirements:
You Can Afford a UC Degree. We'll Show You How.
A UC degree is more affordable than you might think! Grants, scholarships, loans, and work-study are offered to qualified students by our Financial Aid office, who offers Californians one of the most generous financial aid packages in the nation. In fact, UCR ranks No. 25 on Best Value School's Most Affordable Colleges in California. (2020)
87%
of UCR undergraduate students who applied received some form of financial aid.
98%
of financial aid recipients received gift-aid (grants and scholarships).
77%
of students' financial aid need was met with need-based financial aid.
(Financial Aid Office, 2021–22)
 
---
Learn How Affordable a UC Degree Can Be!
"I chose UCR because of the opportunity to receive an education at the UC level while also being able to be represented by the diversity that the campus offers."
Ali Alshaher
Class of '20, Sociology
Get to Know UCR — Set in Sunny Riverside, California
---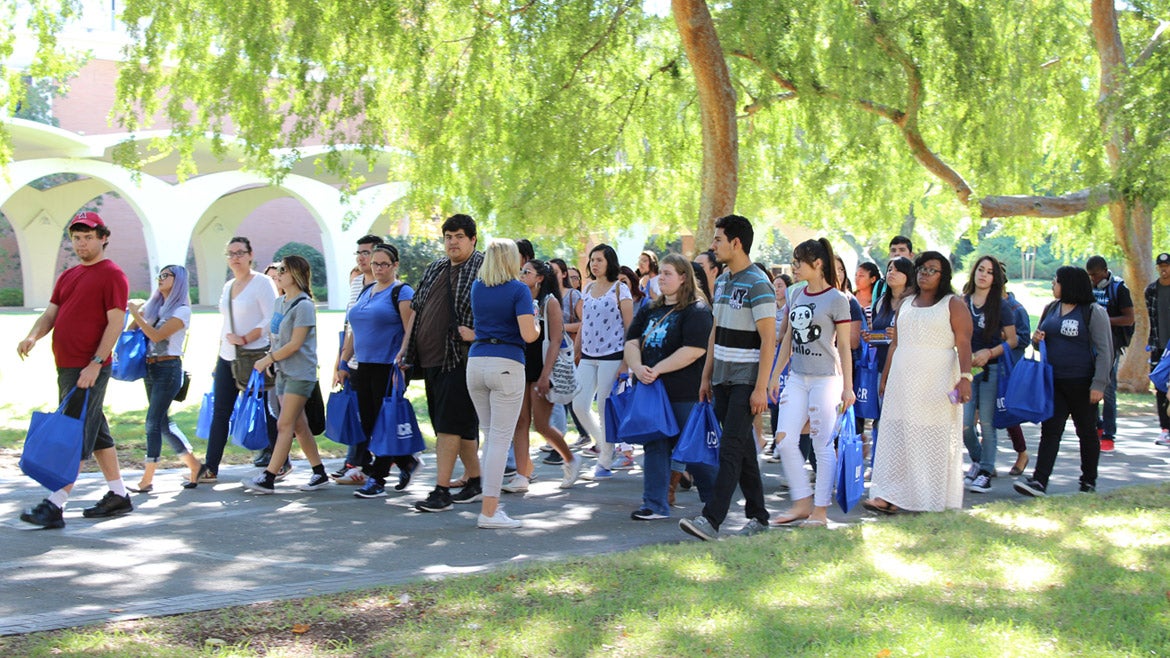 DISCOVER WHY THIS CAMPUS IS MADE FOR YOU
With a campus size of 1,900 acres (7.68 km2), there's a lot to discover at UCR. Check out all the different ways to explore UCR.
Experience UCR through a driving tour of the campus' architecturally aesthetic landmarks.

Watch a student-hosted video that leads you through our campus.

Register for one of our virtual Zoom meeting options, which connect you with unique, committed, and real Highlanders who have all the insider intel.

Explore the campus using a smartphone, tablet, laptop, or computer from anywhere in the world using our 360-degree virtual tours.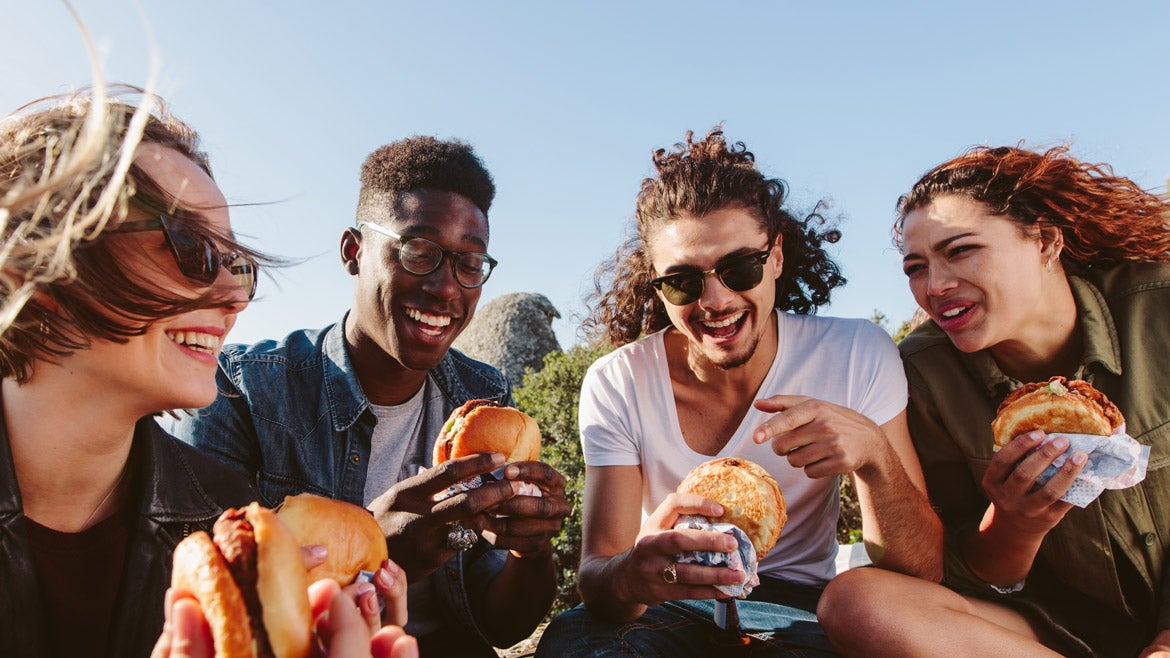 LIVE YOUR BEST LIFE IN RIVERSIDE, CALIFORNIA
The City of Riverside is a vibrant college town that welcomes and supports a diverse community that is attracted to the city's perfect balance of small-town friendliness and big-city fun.
Take a few steps off the UCR campus to find eclectic eateries, music venues, craft breweries, indie shops, boba spots, and coffee houses. No wonder Riverside was named the best city to live in! (Press-Enterprise, Best of IE, 2017)
Learn all about Riverside and see why it's not just a great place to learn, it's an amazing place to live!
Meet Unique, Committed, and Real Highlanders!
Hear their unique stories. Learn about where their commitments will take them. See how real they get during their time at UCR. They chose a university that celebrates their individuality and respects their voice. Now it's your turn!